This week's inaugural entry for Spacecraft of the Week is the
Apollo 6
capsule on display at the
Fernbank Science Center
in Atlanta, GA. This Block 1 capsule was launched on the second Saturn V launch in April 1968. Its successful return to Earth paved the way for the men of
Apollo 7
to journey to orbit in their Block 2 capsule.
But this blog is not just about spacecraft. It is also about the places that display them. And Fernbank was a very important part of my childhood. We moved to Atlanta suburb Decatur in 1967 after living a few years in the LA area. There, my dad and I had monthly dates to journey up the mountain to the Griffith Park Planetarium for their star show. I was depressed that Atlanta had no such facility where dad and I could resume our dates, me to learn more about the wonders of space, and he to nap after a hard days work (that's OK dad!).
Shortly after we moved, I discovered just 6 blocks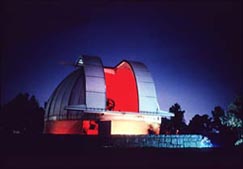 from home Fernbank, at the time an
excavated foundation for the coming science center. I learned it would house the largest public telescope in the southeast. And it would be home for the third largest planetarium in the country with a brand new Mark V Zeiss projector. I visited the construction site often, watching the walls and dome go up. I trespassed into the planetarium dome imagining what was to come. I wrote my name on the metal roof before the insulation was blown on. And after it opened, I no longer needed to wait for dad to come home (though we still had many visits together there), as I could go there after school. I knew the astronomers and the planetarium operators, and they knew me. It was my own little slice of heaven (figuratively and literally) for a year and a half. Then we moved to the Chicago suburbs, and the Adler became my and my dads monthly get together. I had, though, already been set on a course that would lead me back to Fernbank one day.
Years later, as a NASA education specialist, it was my joy to work in the Fernbank Science center, with its wonderful facilities and staff, teaching educators and students about the things that inspired me there long ago.